MESSAGE FROM THE YARA BOARD
Since our last Yara Newsbites in March, we have witnessed the world change in unimaginable ways. The COVID-19 pandemic has upended every aspect of our lives. As the world fights against the virus, the real heroes of this fight are our frontline workers, sacrificing their own health and safety to protect ours. Knowing that many women from our community are among them, we asked you to nominate inspiring Iranian-Canadian women working in the frontlines. As the nominations poured in, it was clear how much pride there is for these women and their impact in our collective fight. In this issue, we are showcasing six of these incredible women but would like to salute all 19 of our nominees. You make us all proud.
Last month, we witnessed with profound sadness the events of anti-Black racism taking place south of our borders, which culminated in a global cry for justice and waves of protest unfolding across the continent. Yara stands in solidarity with the Black community and is deeply committed to doing its part to fight anti-Black racism and all other forms of racism. We acknowledge that racist behaviours may have shaped each of us and our community and it is incumbent on us to educate ourselves. We need to do our part in listening, learning and most importantly, speaking up against all forms of racial injustice. Yara will not be a silent ally but will use its platform to discuss these important issues.
We close this message with some good news: in the past two years, we heard from you that our programming should also be made available to audiences outside of Toronto. Recent events have given us an opportunity to reflect on how we can accomplish that and we are thrilled to announce the launch of the Yara Dialogues, a series of virtual dialogues that can connect us to a global audience.  Stay tuned for more details.
Be well,
Yara Board of Directors

CELEBRATING OUR VERY OWN FRONTLINE HEROES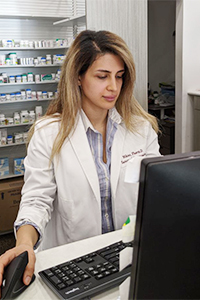 Nikoo Bagheri – Pharmacist
"The Pharmacy is a business that can never close. People rely on us to get their medication."
Since the social distancing measures were put in place, owners of Pharmasave Sanomed Pharmacy & Sanomed Medical Clinic, Nikoo and her brother have tirelessly been working to ensure that their patients receive uninterrupted and timely service. They took measures to transform their in-person business into an online setting. Through the implementation of a new platform, patients can access vital information and guidelines around covid-19, as well as book various consultations. Nikoo is grateful to be recognized for her efforts, and wishes to share this with her brother, who has been her "Yara" and partner throughout this tumultuous time.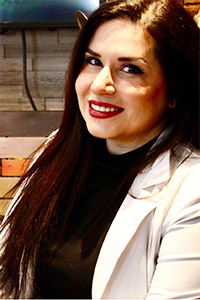 Bahar Karimi – Administrator, Castleview Wychwood Towers, Senior Services and Long Term Care, City of Toronto
"Everybody is stepping up and in the centre of everything we do, are our residents. We are here to protect and keep our residents safe."
As the Administrator of Castleview Wychwood Towers, a City-owned long-term care home, Bahar oversees a multi-professional team responsible for quality, safe care and services for 456 residents. Thanks to the support they received from their division and the City, she is grateful that they were able to act fast in safeguarding residents from virus spread. She is proud of her resilient team for collectively adopting a sense of ownership and accountability towards residents and co-workers. By pausing her PhD work and spending less time with her own family, Bahar is relentlessly working to protect those entrusted to her care."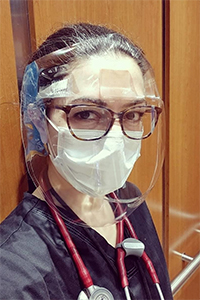 Dr. Maral Nadjafi – Physician
"We are more than just doctors going to see their patients and coming home. I think doctors have a much bigger role as public educators, leaders, and the voices of our community."
By virtue of her role as a specialist in internal medicine, Dr. Nadjafi has been treating and providing care to the COVID-19 patients at North York General Hospital. She transcends her role as a physician by using her influence to advocate for no-nonsense medicine. Myth buster Dr. Nadjafi, has taken on the responsibility of educating people around her and the community on appropriate public health measures around the virus. A champion for celebrating the successes of women in our community, she is proud to be recognized for her work. She believes more representation of Iranian women in leadership is excellent, as it pays homage to past generations and inspires future leaders.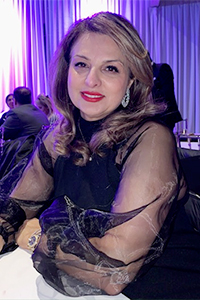 Negar Nayer Nia – Physiotherspist
"Some of them quit. They didn't feel safe enough to work."
Negar, a registered physiotherapist and super mom, is helping patients in clinics and home-care centres to restore and maintain their mobility. When clinics were temporarily closed, Negar courageously continued her work with LHIN, a Community Care Access Service. She has demonstrated her commitment to helping patients, who happen to be seniors, COVID survivors, and other vulnerable individuals, by showing up every day in protective gear and rocking a positive attitude. Having worked in the field for 35 years as a physiotherapist, Negar is still passionate about her job. She believes the secret to a successful life is loving people and the work you do.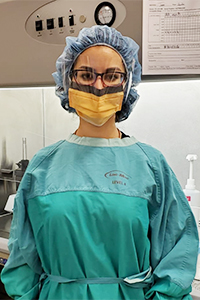 Nasim Sepanloo – Cytotechnologist
"We are working with this live virus, and that is the risky part"
Nasim works at Oakville Trafalgar Memorial Hospital. She is the hero behind doors with hazardous signs. Since the start of the pandemic, she and her fellow lab professionals have tirelessly been working on slowing down the spread of the virus through their meticulous COVID-19 testing and reporting. She said, "We spend hours and hours validating, correlating, and troubleshooting the tests to ensure accurate results". She appreciates that the community is recognizing the critical role medical lab technicians play within the healthcare system. Nasim wishes to dedicate this recognition to her fellow colleagues, who alongside her, wear protective gear, her community of healthcare professionals, her patients and all the wonderful people who have been supporting and sending their love to frontline workers everywhere.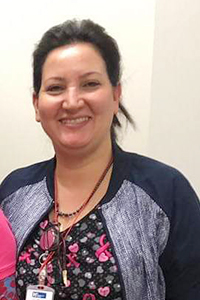 Zahra Vahedolain – Registered Nurse
"I have two kids and my husband at home. Every day when I come home, I am worried to give them this virus because I am constantly working with positive patients"
Zahra, a registered nurse at Humber River Regional Hospital, plays an essential role in managing the pandemic. She is the vital link between patients and the rest of the health care team. Her unparalleled contribution to the frontline is fueled by the support she receives from her family, colleagues, and community. She is grateful for the recognition and is honored to represent nurses around Ontario, who like her, have been working with COVID patients to improve our current public health crisis. Zahra loves her job, and believes a collective effort is required to slow down the virus; stressing that "we are in a tough situation but if we work together, we can all stay healthier."
IN THE SPIRIT OF STAYING-IN
Last month in anticipation of the June issue of Yara Newsbites, we asked past Yara speakers to recommend what books, films, music etc. they have found inspiring, uplifting, motivating or even entertaining during the pandemic. We are pleased to share some of these suggestions with you.
Chakameh Shafii                  
Invisible Women: Exposing Data Bias in a World Designed for Men
by Caroline Criado-Perez
Roxana Tavana                    
Tiny Beautiful Things
by Cheryl Strayed
Niloo Boroun                        
Becoming
by Michelle Obama
Rozita Moazemi-Farhani     
Leadership Material: How Personal Experience Shapes Executive Presence
by Diana Jones
Shermin Izadpanah Kruse              
An independently organized event, licensed by TED and produced by Shermin Kruse will stream on Sunday, June 28th from 10:00 a.m. – 3:00 p.m. Central Time from Chicago's Wrigley Field. This FREE program will feature 17 innovative and inspiring TED talks under the theme of "Humanity, a View from Inside the Pandemic." – https://www.tedxwrigleyville.com/